Beschrijving
Top 10 Vintage Receivers
March 3, 2016
Vintage stereo receivers are popular items for many people to collect. There is a certain nostalgia involved for some people that cannot compare to anything else. Some other people buy vintage receivers because they need that style to operate their vintage electronics; however, regardless of what the reason is for buying a vintage stereo receiver, it is important to know which ones are considered to be the best. Vintage receivers can be located at garage sales and online at eBay.
Buying a vintage receiver that is in the top 10 list is able to give people the peace of mind knowing that these items have already been rated and have been determined to be trustworthy and of good quality. Understanding features that these vintage systems have is also important to ensure that people choose one that best suits their needs.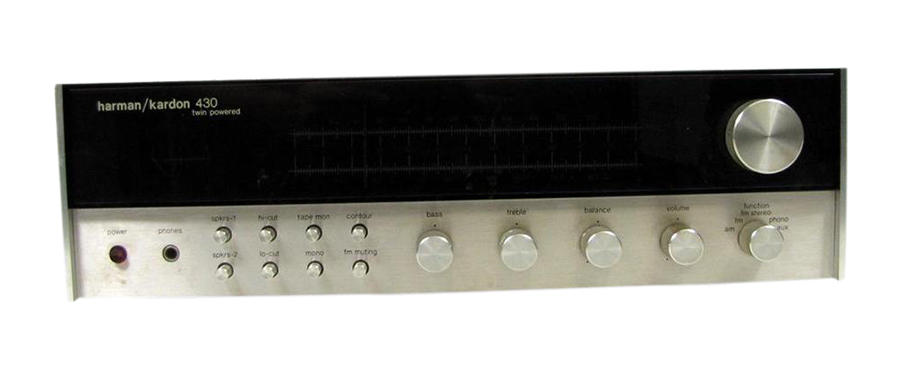 The Vintage Harman Kardon 430 stereo receiver is one name that comes up over and over again as rated by users as one of the best vintage stereo receivers. This model was manufactured between 1976 and 1977. The receiver features a 25-watt per channel output which sounds much louder due to the dual mono technology which ties together two large capacitors with two large transformers per channel. This model is also noted as having superb clarity and detail.
Read more about this number 1of the world's best Vintage Receivers
https://www.ebay.com/gds/Top-10-Vintage-Receivers-/10000000177678351/g.html
Harman Kardon 430
Twin Powered Receiver (1976)
Specifications
Tuning range: FM, MW
Power output: 25 watts per channel into 8Ω (stereo)
Frequency response: 20Hz to 20kHz
Total harmonic distortion: 0.3%
Damping factor: 40
Signal to noise ratio: 65dB (line)
Speaker load impedance: 4Ω to 16Ω
Dimensions: 432 x 368 x 140mm
Weight: 10.9kg
The incredible attraction of the 430 is the sound for most enthusiasts. Even back in the seventies when this amp was made it stood out. I sold these and many other brands at a hi fi store and the 430 had a reputation even back then and was demonstrably better sounding than other brands and than its siblings the 330C, 630 and 730. I had forgotten about it until recently. After hearing much about this receiver and hearing it sound pretty grand in a friend's large system, I fell in love again, it sounds far more powerful that the 25 watts sound when buying this collector's item.
Although packed very carefully, we ship our HiFi equipment with MyParcel (they work together with the common delivery firms), shipment risks are fully for the buyer- receiving party.